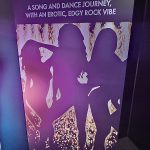 Las Vegas, where entertainment reigns supreme, EXXCITE The Show stands as a beacon of raw energy, sensuality, and artistic prowess. Crafted by the multi-award-winning producer and choreographer Jennifer Romas, this production takes the classic showgirl allure and blends it with a rebellious rock 'n' roll twist that's both erotic, edgy and full of powerful estrogen or "GIRL POWER!"
EXXCITE delivers a powerhouse performance, promising to exhilarate audiences with jaw-dropping performances, powerhouse vocals by Gabie Lopez, and heart-pounding choreography. This 75-minute production boasts a cast of hot and sexy classically trained female artists, ensuring an unforgettable experience for both men and women.
The show's tagline "Slightly Indecent, Sexually Suggestive, and Guaranteed to EXXCITE" sets the tone for a night of thrilling entertainment. This isn't your typical Las Vegas show; it's a bold and daring exploration of female sexuality that has garnered acclaim from various critics and publications such as TMZ.
Critics have heaped praise upon EXXCITE, calling it "impressive choreography abounds" and remarking on its sensuality and tantalizing performances. Interactive elements, over-the-top presentations, and the charm of the talented dancers make it a wild and fun experience.
Audience reviews echo the critics' sentiments, with comments like "amazing," "mind-blowing," and "a true Vegas show" making it clear that EXXCITE is a must-see when in Las Vegas.
Jennifer Romas, the driving force behind EXXCITE, has a legacy of success in Las Vegas entertainment. She is the producer, director, choreographer, and star of other smash-hit revues like her SEXXY 'The Show.' Her innovative vision and dedication to delivering the best in adult entertainment have earned her numerous awards, including Las Vegas Best Female Entertainer for the Silver State Awards.
EXXCITE The Show is the perfect destination for couples, date nights, bachelor and bachelorette parties, ladies' nights, birthdays, and singles looking for a night out filled with raw, edgy entertainment. With gorgeous women strutting their stuff to the rock 'n' roll hits of today and yesterday, it's a show that's bound to EXXCITE all who attend.
If you're in the mood for an unforgettable night of Vegas glitz, glamour, and an electric atmosphere, look no further than "EXXCITE The Show." It's a powerhouse of entertainment that will leave you wanting more, just like Las Vegas itself.
I've already ordered two more tickets, Sam get ready!
~ Aaron Elekes